Fusion® Apollo™ ERX400 – Wired remote with Ethernet connectivity – THE SUM OF AUDIO INNOVATION REIMAGINED
Sleek, compact and easy to install, the new Apollo ERX400 wired remote control allows you to add intuitive and integrated audio control to any zone onboard your boat.
Enjoy the colour album art and metadata to display information of the current track playing.
An intuitive user experience allows for seamless navigation and control of your entire boat's Apollo Series stereo network.
The compact design and ultra-shallow mounting depth of just 49 mm increase installation options and versatility.
Enjoy easy installation and connectivity with the single Apollo ERX400 network/power cable.
Install with a conventional flat finish, or integrate it into the helm with a premium flat finish. An optional surface mount accessory spacer is also available (sold separately).
DESIGNED AND ENGINEERED TO TRUE-MARINE
™
 STANDARDS
Built on the True-Marine design philosophy from Fusion, the Apollo ERX400 remote is IPX6 and IPX7 rated water-resistant and has been tested to a high level of protection against salt fog, temperature, vibration and UV.
MODERN DESIGN AND AESTHETICS
Apollo ERX400 features a 2.7-inch optically bonded, full-colour LCD that is integrated into a black glass front face. This allows the remote to blend seamlessly with the aesthetics of your boat for a premium and elegant installation.
Enjoy integrated control of your entire audio entertainment system.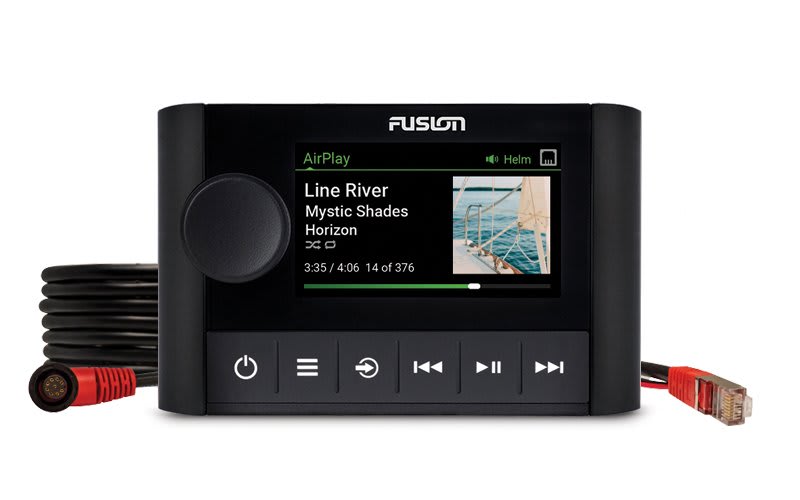 NETWORKING
Connect your Apollo ERX400 wired remote to an Apollo Series stereo network using an Ethernet connection. An 8-meter proprietary Ethernet cable (010-12922-00) is included with your Apollo ERX400.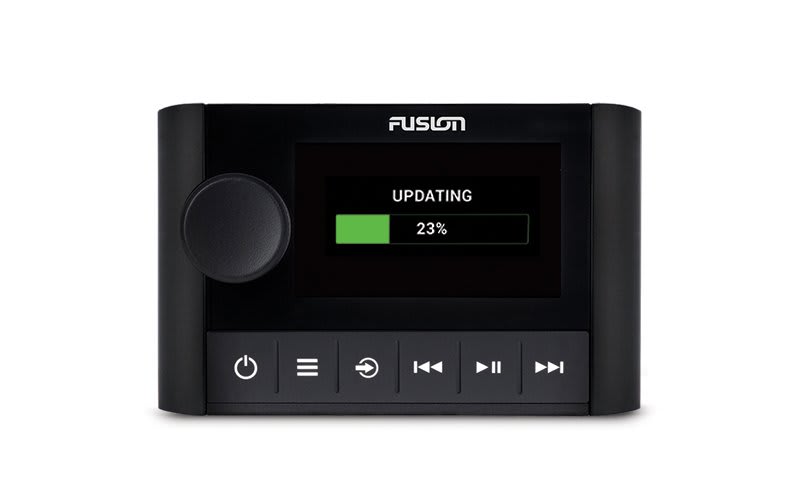 OVER-THE-AIR SOFTWARE UPDATES
Updates are now available from your compatible smartphone or device via the free Fusion-Link™ app1. The Apollo Series is intelligently simple and easy to keep up to date.
Enjoy freedom of musical choice across the entire boat.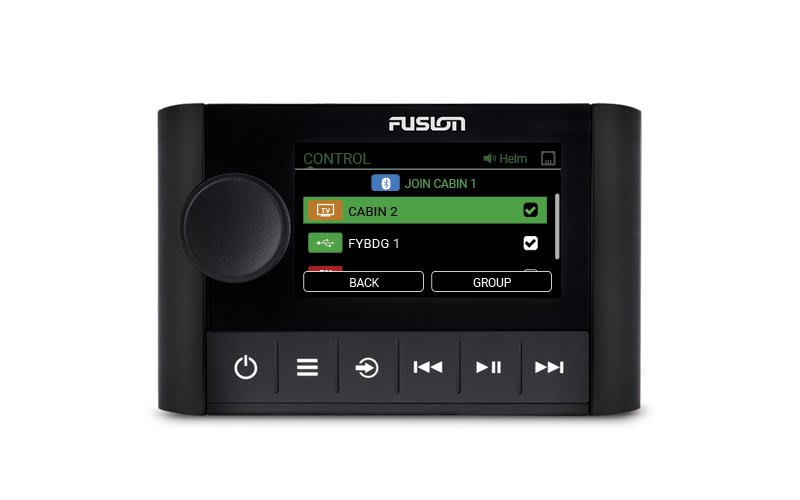 STEREO GROUPING
Grouping allows you to link up multiple Apollo Series stereos connected to the same network and play the same audio source synchronised across all stereos.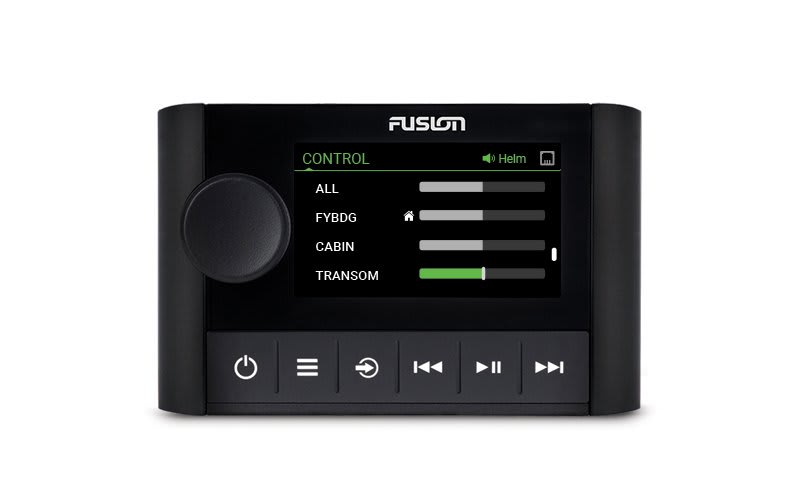 VOLUME CONTROL
Scroll through available zones on your boat, and enjoy independent volume control, or select ALL volume to adjust a group of connected stereos at once.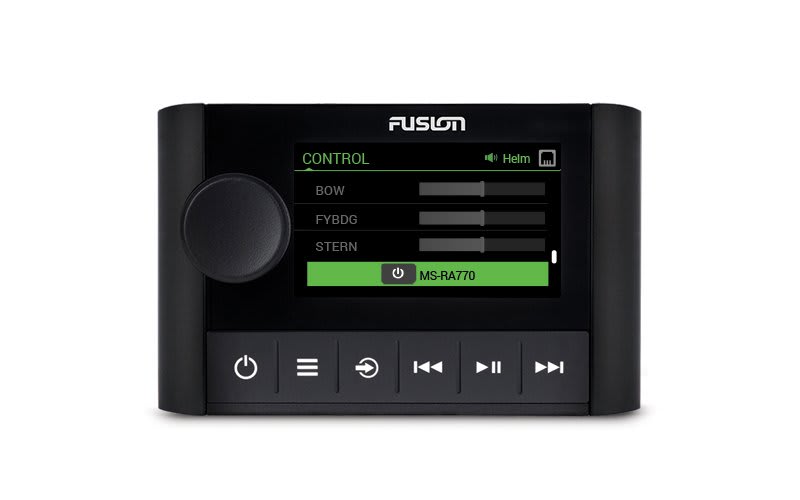 POWER OPTIONS
Power options allow you to turn on any connected Apollo Series stereo in standby mode on the PartyBus™-Network remotely from another Apollo Series stereo.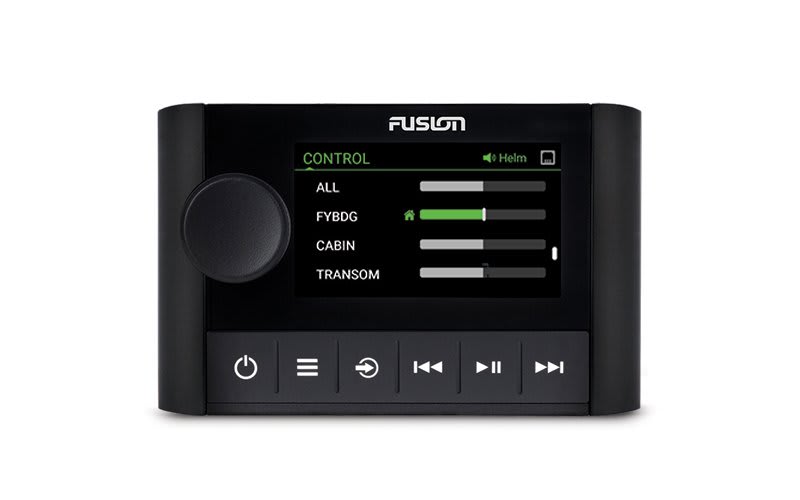 HOME ZONE
Home Zone is the physical zone onboard your boat in which the stereo is installed. After adjusting audio in another zone, the stereo defaults to control of the Home Zone after a period of inactivity.
What's in the box?
Mounting gasket
Mounting template
Four 8-gauge, self-tapping screws
Two screw covers
Dust cover
8 metre network/power cable
General
| | |
| --- | --- |
| Physical dimensions | Remote dimensions including cable (HxWxD): 70 x 110 x 71.4 mm |
| Weight (excluding cable) | 100 g |
| Water rating | IPX6 and IPX7 |
| Power input | 10.8-32 VDC |
| Operating temperature range | 0° to 50° C |
| Current (max.) | 150 mA at 12 VDC, 125 mA at 14.4 VDC |
| Compass-safe distance | 150 mm |
Remote features
| | |
| --- | --- |
| Display | 2.7-inch optically bonded colour LCD |
| Multi-language interface | Bulgarian / Chinese (Simplified) / Chinese (Traditional) / Croatian / Czech / Danish / Dutch / English / Finnish / French / German / Greek / Italian / Japanese / Korean / Norwegian / Polish / Portuguese (BR) / Portuguese (PT) / Slovenian / Spanish / Swedish / Thai / Turkish |
| Software updates | Over-the-air software updates via the Fusion-Link app when connected to a wireless network router or integrated into an Apollo Series stereo network enabled with Wi-Fi technology via Ethernet. |
| Warranty | 3 years |
Connectivity
| | |
| --- | --- |
| Connection | One power over Ethernet port |
| | |